IMPORTANT BEMBE ALUNGA MASK, DR CONGO 20TH CENTURY



ALUNGA MASK FOR ALUNGA SPIRIT
This Janus helmet mask is decorated with pigments (kaolin in circular cavities). The head and the eyes are totally stylized with geometrical forms.
The colours generally used for this mask are white, red and black; there is symbolism associated with each colour.
A mighty and powerful piece of art, this mask belongs to the Alunga secret society. Alunga, the bush spirit, is honoured during ceremonies. Male dancers with Alunga masks must be directed by another man, because like the spirit itself, they are blinded. According to Pol P. Gossiaux, the name of the mask is"echwaboka".
The "echwaboka" masks look like pre-Bembe bifacial polychrome heads representing Alunga spirits (Biebuyck 1981, 152)
Provenance
Former collection Lucien Van de Velde, Anvers
Claes Gallery
Private collection
Bembe people

They live near Lake Tanganyika, with the Boyo and the Hemba as their neighbours. The history of settlements in this region was studied by Daniel Biebuyck (1981). According to him, the Bembe people had their origins on the shores of the Lualaba River. Hunters migrated in waves from the East, before finally settling near Lake Tanganyika.
Important EXEMPLARS OF THIS ALUNGA MASK BELONGS/ED TO PRESTIGIOUS COLLECTIONS:
Jean-Paul Barbier-Mueller, Willy Mestach. Our Alunga mask is closer to the Tervuren Museum's mask (Inv. 1026-38), even if ours is somewhat bigger and also more powerful; this is  in contrast to the Metropolitan Museum's Alunga Bembe mask (Inv. no. 1979.206.243) which has smaller cross in the eyes of the spirit.
Naturally, African masks are incomplete when we see only the element of the head. The whole costume for the dancer's body is understood as the mask, too.
Editor in chief & Expert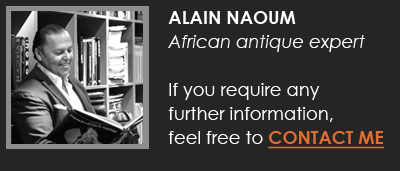 Editor
Coryse Mwape Dolin
Art Historian, African Arts
Bibliography
Jean-Baptiste Bacquart.- The Tribal Arts of Africa. Surveying Africa's artistic geography. London, Thames & Hudson, 2000.
Daniel P. Biebuyck.- Statuary from the Pre-Bembe hunters. Tervuren, Royal Museum of Central Africa, 1981.
William Fagg.- Masques d'Afrique dans les collections du musée Barbier-Müller. Paris, Editions Nathan/L.E.P., 1980.
Pol P. Gossiaux.- Recherches sur l'art bembe. Arts d'Afrique Noire 11, 1974.
T. Phillips (dir.)– Africa. The Art of a continent. Munich/New York, Prestel, 1995.
Illustrations
Map, T. Phillips 1995, 230.
Pre-Bembe bifacial polychrome head, Biebuyck 1981, 14.
In situ photography by P.P. Gossiaux (c.1974), Fagg 1980, 146.
Alunga Bembe mascarade, Hahner-Herzog and Kecskési 1997, 228.
Alunga Bembe mask from Tervuren Museum (Inv. 1026-38), Hahner-Herzog and Kecskési 1997, 229.